Spain-based Author Publishes Novel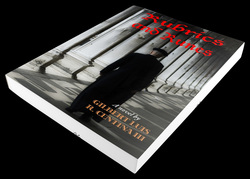 (Click on image to enlarge )
NEW YORK: Spain-based author Gilbert Luis R. Centina III released his latest novel today, June 20, 2013, while on a short visit in New York. The novel,
Rubrics and Runes
, tells the story of a religious friar caught in the maelstrom of conventual and secular political intrigues when the two supposedly incongruous worlds collide.
When José Morán entered the monastery, it was to pursue the highest form of chivalry. But his fate as a religious priest takes a precipitous turn when social paroxysm grips the fictional island-nation of Islas e Islotes after the downfall of the government.
To cover up his own misdeeds, his abominably corrupt religious superior leading a double life seizes the ensuing chaos and collaborates with human rights violators in military uniform to accuse the completely innocent friar of a fabricated heinous crime. The plot unravels as those who claim to follow Christ wade into politics, taking for granted his injunction to "render therefore unto Caesar the things which are Caesar's and unto God the things that are God's." In this novel, cassocked hypocrites are unmasked and only the weak are spared.
The explosive
Rubrics and Runes,
which is as relevant as today's headlines, is the first novel written by Father Gilbert under his real name. The previous one,
Wages of Sin
, was released under a nom de guerre in Honolulu in 1988. The novel is the fourth book he has released this year, the most productive span so far in his entire literary career. Half of those books are reissues of two poetry collections previously published only in the Philippines, while the remaining one is an entirely new volume of poems.
Rubrics and Runes
and the rest of Father Gilbert's titles, except for
Wages of Sin
, are available on
Amazon.com
and other online retailers.
---
Cover image/iStock Photo.com, used with permission.
Front cover photo Copyright (c) 2013 Catherine Lucas..
Art consultant:
Janet Frances White
---
---
---