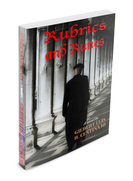 When José Morán entered the monastery, it was to pursue the highest form of chivalry. But his fate as a religious priest takes a precipitous turn when social paroxysm grips the fictional island-nation of Islas e Islotes after the downfall of the government. To cover up his own misdeeds, his abominably corrupt religious superior leading a double life seizes the ensuing chaos and collaborates with human rights violators in military uniform to accuse the completely innocent friar of a fabricated heinous crime. The plot unravels as those who claim to follow Christ wade into politics, taking for granted his injunction to "render therefore unto Caesar the things which are Caesar's and unto God the things that are God's." In this novel, cassocked hypocrites are unmasked and only the weak are spared.
READ EXCERPT...
---
---
Wages of Sin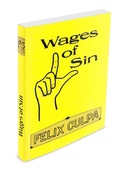 In a time of ferment, political and military elements join forces with the most powerful religious leader of a Third World country to oust a strongman who can do no wrong in the eyes of his followers but is the personification of evil to those who want him out of power by all means necessary.

In the face of fast-changing events, a superpower is made to choose between its long-time anti-communist ally and a modern-day Joan of Arc, sainted by the Church as the savior of her benighted land. What follows is a riveting tale of religious and political intrigues, gripping drama and tension that rends the characters who inhabit this fictional novel.
---
---