Father Gilbert's Fourth Poetry Collection Is Out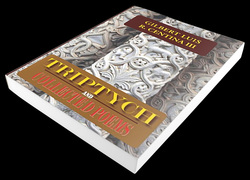 (Click on image to enlarge )
NEW YORK: The fourth poetry collection of Gilbert Luis R. Centina III was released today, August 11, 2013, in New York for distribution through online retailers.
Triptych and Collected Poems
represents Father Gilbert's poetic output over a span of thirty years, including his widely anthologized poems. Thirty-four of the poems in this collection are new, written this past July over a period of one week. Some of them are dedicated to a number of departed friends and acquaintances, including poets José García Villa, Federico Licsi Espino Jr., Ricaredo Demetillo and fictionist Estrella Alfon. A poem to César Abraham Vallejo Mendoza rounds up this circle of literary giants on account of Father Gilbert's friendship with a Spain-based nephew of the great Peruvian poet.
Readers already familiar with his works will recognize a shift in the focus of his poetry. The voice in this book gradually changes from that of a friar playing "hide and seek" with a Being far greater than himself and the cosmos to one who, like Saint Augustine, recognizes that in the end, our heart is restless until it rests in the bosom of the Creator.
In his
"Silver Linings"
blog, Father Gilbert describes this year as the most productive so far in his literary career, having written a novel (
Rubrics and Runes
) and one other poetry book (
Somewhen)
before the release of
Triptych and Collected Poems. In the same
blog
, Father Gilbert implies that the publication of this 202-page volume fulfills his goal of making all his works available online. In fact, he had made great efforts to retrieve copies of his out-of-print books, leading to the republication this year of
Our Hidden Galaxette
and
Glass of Liquid Truths
.
In April this year, he released
Somewhen
to warm critical praise,
moving
Portland Book Review
to describe it as "modern poetry at its best." He followed it with
Rubrics and Runes
, his
controversial
second novel.
---
Cover image/iStock Photo.com, used with permission.
Front cover: Detail of marble columns forming a triptych inside the cloisters of Montreale Cathedral, near Palermo, Italy.
Copyright (c) 2013 Roberto Gennarro.
Art consultant:
Janet Frances White
---
---
---