The Author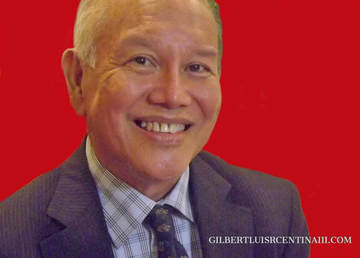 Award-winning Asian American author
Gilbert Luis R. Centina III
, a member of the religious
Order of St. Augustine
, is the author of a literary criticism (
Spiritual Quest in Verse
), two novels (
Wages of Sin
,
Rubrics and Runes
) and six poetry collections (
Diptych/Díptico,
Getxo and Other Poems
,
Triptych and Collected Poems
,
Somewhen
,
Glass of Liquid Truths
and
Our Hidden Galaxette).
His first novel
Wages of Sin,
a
roman á clef
written under a
nom de guerre
, was published in Honolulu in 1988. His second novel,
Rubrics and Runes,
was
published in June 2013. It tells the story of a friar caught in the maelstrom of conventual and secular politics when the two supposedly incongruous worlds collide.
After joining the Augustinian Order at
Convento de San Agustín
in Manila in 1964, he studied at the
University of Santo Tomas
, the Philippines' royal and pontifical university and graduated with latin honors (
cum laude)
from all four degrees he obtained there: Bachelor of Arts (Classical), Bachelor of Philosophy, Bachelor of Theology and Licentiate of Theology. He earned his Master of Arts in comparative literature from the
University of the Philippines
and completed the coursework towards a PhD in comparative literature in another state university. A few months after his ordination to the priesthood in 1976, he briefly served as a missionary in Peru.
His works have been widely anthologized in Philippine high school and college textbooks. Besides English, he also writes in Spanish and in two Philippine languages, Hiligaynon and Tagalog. From the Asian Catholic Publishers and the Archdiocese of Manila under
Jaime Cardinal Sin
, he received the Catholic Authors Award in 1998.
For many years, he served as a school chaplain and as a pastor of a Manhattan parish church, and along the way wrote hundreds of newspaper columns and articles and contributed poems and fiction to journals and magazines. A well-traveled writer, he has visited many places in Europe and in Asia, including Tibet. As an Augustinian friar, he has worked and lived in North and South America. He currently lives and works in Spain.
---
---
For press and publicity photos:
---