Our Hidden Galaxette Is Reissued in the U.S.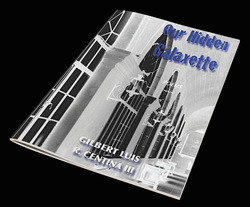 (Click on image to enlarge )
NEW YORK:
Our Hidden Galaxette,
the first poetry book of Gilbert Luis R. Centina III, was reissued as a second edition in New York on Tuesday, May 21, 2013. First published in 1970, the book was dusted off and saw print in the United States for the first time in response to a growing clamor of Father Gilbert's followers to have the out-of-print volume republished.
It took some sleuthing on the part of Father Gilbert's production assistants to produce the book as the author himself no longer possessed any copies.
But thanks to the National Library of Australia, which provided a copy of the book from its archives, the second edition is now available online on
Amazon.com
. This completes the process of having all of Father Gilbert's poetry titles available to readers at anytime through
Amazon.com
and other online retailers.
---
---
---
---