Royal Spanish Academy Head Congratulates Father Gilbert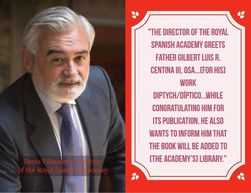 (Click on image to enlarge )
NEW YORK:
The Royal Spanish Academy
, through its director
Darío Villanueva
, has congratulated Father Gilbert for the publication of his latest book,
Diptych/Díptico
, his first bilingual poetry book.
Father Gilbert's bilingual book is a boost to efforts of the Academy and of the Spanish government to promote and revive the Spanish language in the Philippines, which has been severely weakened by misguided education policies. False nationalism on the part of some policy makers led to the abolition of the Spanish language from the school curriculum in favor of Filipino, which was officially adopted as a national language.

In an email message to Father Gilbert, Villanueva also informed him that the book will be added to the library collection of the Academy in Madrid.
---
---
---
---