Father Gilbert Is Included in New Anthology of Writers in Spanish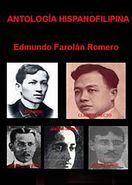 (Click on image to enlarge )
NEW YORK: A poem of Father Gilbert Luis R. Centina III is included in a new anthology focusing on the works of major Filipino authors and writers in Spanish from the 19th to the 21st centuries. "Mediodía," one of his poems in his recently released poetry collection,
Diptych/Díptico
[Centiramo Publishing, New York: 2017], made the cut for
Antología hispanofilipina
[
Kobo
, Vancouver: 2017], an eBook written and edited by
Edmundo Farolán Romero
, a respected academic and author in both Spanish and English.
The book contains works by distinguished Filipino writers in Spanish such as Philippine national hero
José Rizal
,
Claro M. Recto
,
Jesús Balmori
,
Fernando Ma. Guerrero
,
Guillermo Gómez Rivera
, and
Adelina Gurrea. Gurrea, coincidentally, was born and raised in the same town of La Carlota in central Philippines as Father Gilbert.
The book covers works in different genres -- poetry, essay, drama and short fiction -- beginning from the 19th century to the present. Some of the works are presented in fragments for lack of space, as in the case of the novel.
Farolán is the author of 27 books, including
Lluvias filipinas
(1967),
Rhythm of Despair
(1974) and
Tercera primavera
(1981).
Antología hispanofilipina
is a follow up to an earlier anthology,
Literatura filhispana: una antologia
(1980). Besides being a prolific writer, poet and playwright, Farolán has also directed and acted in plays in Vancouver, where he edits the online magazine
reviewvancouver.org
.
In his introduction to the book, Farolán asserts that the Philippines continues to be a Hispanic nation despite the near eradication of Spanish as a spoken language throughout the country. He points to the rich literary output in Spanish of Filipino writers in different genres which he has chosen for inclusion in this anthology. His book, he says, can serve as a point of departure for other Spanish-speaking countries throughout the world to recognize that the Philippines has a wealth of Spanish literature worthy to be taught in European universities as a separate field of study.
Farolán has taught at various universities and colleges throughout the world as a visiting professor, including
Webster University Thailand
,
University of Silesia (Czech Republic)
,
Dalian University
(
China
),
University of Toronto
and
Corpus Christi College
. According to his biography, he received the Premio Zobel in 1982, "the Philippines' highest literary honor given to Filipinos writing in Spanish. As a leading authority in Spanish literature and language, he is a senior correspondent for the Real Academia de la Lengua Española in the Philippines. He has published several books of poetry, anthologies, textbooks and translations. He was published in
Reflexiones Sobre el Primer Congreso Internacional de la Lengua Española
as well as other books and articles in Spanish and English."

He holds a Ph.D. in speech communication from
Bowling Green State University
, a master's degree in Hispanic studies from the
University of Toronto
and another post-graduate degree from
Universidad Central de Madrid.
---
---
---
---