Father Gilbert Releases First Bilingual Poetry Book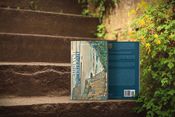 (Click on image to enlarge )
NEW YORK: In
collaboration with two of Spain's most talented contemporary artists,
Father Gilbert has released
Diptych/Díptico
, his first bilingual poetry book. It contains some of the most damning verses written by a Roman Catholic priest against clericalism, which Pope Francis has condemned as an evil present in the Church today with the people as its victim, according to
Vatican Radio
.
Consisting of over one hundred poems in both English and Spanish, Father Gilbert considers the 138-page book as his contribution to the resurgent efforts to promote and revive the Spanish language as a lengua franca in the Philippines. Since much of over three hundred years of Philippine history is written in Spanish, he believes it holds the key to Philippine national identity.

​The artworks of Spanish multimedia artist
Vicente Jáuregui
are featured throughout the book, along with a single work of the author's sister, Louella Centina Garnado. Introducing the book is Spanish poet
Antonio Aguirre
and writing the prologue and the epilogue, respectively, are Spanish author
Josemaría Alonso Alonso de Linaje
and Spanish editor and educator
Ana Maria Romo de Miguel.
Foremost Filipino writer in Spanish
Guillermo Gómez Rivera
praises the Asian American author as a poet who "remains a Filipino at heart" by advancing the Hispanic roots of the Philippines through this bilingual collection.
Diptych/Díptico
is his sixth poetry collection.
---
---
---
---