IN MEMORIAM
Eva Ramos Centina
1925-2014

The Lord is my shepherd; I shall not want.
He maketh me to lie down in green pastures: he leadeth me beside the still waters.

He restoreth my soul: he leadeth me in the paths of righteousness for his name's sake.

Yea, though I walk through the valley of the shadow of death, I will fear no evil: for thou art with me; thy rod and thy staff they comfort me.

Thou preparest a table before me in the presence of mine enemies: thou anointest my head with oil; my cup runneth over.

Surely goodness and mercy shall follow me all the days of my life: and I will dwell in the house of the Lord for ever (Psalm 23).

---

---
Eva Ramos Centina, family matriarch, dies at 89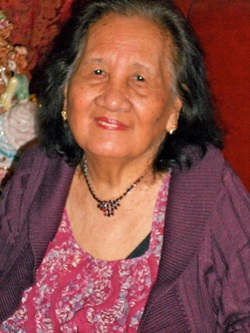 EVA RAMOS CENTINA
passed away peacefully in her sleep at dawn today (December 15, 2014) at home in
Belleville, New Jersey
, surrounded by her loved ones. She joined her Creator after receiving the last rites of the Roman Catholic Church administered by her second child, the Reverend Gilbert Luis R. Centina III,
OSA
. She was 89 years old. She died from complications due to Lewy Body Disease.
Born on October 5, 1925, Eva was the second child in a brood of eight. She first saw the light in a sugarcane plantation of her father's family in Bago City. Shortly after the birth of their first daughter, her parents Eliodoro Fobar Ramos and Francesca Galvan Gomez moved to manage his own sugarcane farm in the hamlet of Mampunay in Haguimit, a village of
La Carlota City
, then a town, in the province of
Negros Occidental
in the
Philippines
.
Her mother Francesca was a schoolteacher who learned English from the Thomasites, the first American Protestant missionaries who arrived in the Philippines after it fell under American control at the turn of the previous century. Her father belonged to a family of landowners and Filipino revolutionaries who fought against the Spanish colonizers at the start of the Philippine revolution in 1896 and later against the Americans at the beginning of the twentieth century (For an interesting account of her parents' beautiful love story,
click here
.) She was a descendant of Fernando Salas, her paternal great grandfather whose brother,
Col. Quintin Salas
, was the last Filipino military leader to surrender to the Americans in the island of
Panay
(more info about Salas
here
and
here
). Her grandfather, Samuel Salas Ramos, was appointed the first Filipino judge of La Carlota, breaking a long line of foreign judges under Spanish and American colonial regimes. A cousin of her father,
Rafael Salas,
served as the executive secretary of President Ferdinand E. Marcos before becoming the first director of the
U.N. Population Fund
in 1969.
Eva was only sixteen years old when she got married to
Luis T. Centina Jr
., an intelligence officer fighting under the organized guerrilla movement in the Philippines and the
United States Army Forces Far East
under the command of General Douglas McArthur during the Second World War. As the drums of war grew louder around them, they met and fell in love amid the extreme fear and insecurity that followed the surrender of Negros Island to the Japanese Imperial Army. Their union bore eight children, one of them stillborn.
In her youth, she aspired to become a Home Economics teacher, a dream shattered by the Second World War, along with those of millions of others who became victims of the senseless cycle of violence that has plagued humankind since time immemorial. Already blessed with a year-old child (her eldest son
Romeo
who predeceased her by three years) at the end of the war, Eva devoted herself to becoming a perfect housewife.
She died an American citizen.
Her aspiration to become an H.E. teacher never left her as she turned her kitchen into a welcoming place for both relatives and friends to gather and to enjoy her recipes up until she became almost bedridden two years ago.
They remember her as a self-sacrificing mother and a loyal friend who would come to anyone's rescue at their time of need. Young people sought her advice on a whole range of subjects---from their love life to their career choices to what meals to prepare for the next get-together. Her wise counsel to her children in dealing with others is "never say anything that you will later regret for you can never retrieve hurtful words once they have left your mouth."
She enjoyed watching old movies on television and keeping herself up to date with world events through cable news. Her passion for news extended to The Weather Channel, something that her son Pierce used to tease her about.
Although born and raised a Southern Baptist, she converted to Roman Catholicism in the 1960s when her son Gilbert made known his intention to enter the monastery
. A devotee of Our Lady of Perpetual Help, she was deeply spiritual with an unwavering faith in the promise of the Resurrection, which is the focal point of her faith. Her favorite activity was to recite the Holy Rosary whenever she was alone in her thoughts.
Near the end of her life, family members gathered at her daughter Heidi's home in New Jersey, where she spent the last twenty years of her life, to offer their support and to express their love. Her younger sister Fran, her niece Grace, her son Evans and his wife Mary Joan flew in from California. Her first granddaughter Michelle arrived from Oslo. The first to rush home was Father Gilbert, who came back from Spain immediately after learning about his mom's grave health condition.
In addition to
Luis
, her husband of 72 years, Eva's survivors include her two daughters Louella and Heidi and their respective spouses Mateo and Joseph; her sons Father Gilbert, Pierce, Evans and his wife Mary Joan, and Christopher and his wife Liezl. She is mourned by her grandchildren Clark Kendall, Mark, Michelle and her husband Karl, Cindy, Francis, Israel, Marja Katrina, Jon Paolo, Samantha, Chester Louis, Gio, Eulo, and Emmanuel Paul. Besides Fran, she is survived by her other younger sisters Ruth and Felizlinda and her sisters-in-law Angustia Hilario Ramos and Virginia Tupino Ramos.
UPDATE:
At the request of the family,
funeral services
and
interment
were held privately with family and close friends. The viewing was at
S.W. Brown & Son Funeral Home, Inc.
in Nutley, New Jersey. During the
funeral vigil
, Father Gilbert presided over the
funeral liturgical services
.
Burial
took place on Thursday, December 18, at
Glendale Cemetery
in Bloomfield, near her adopted hometown of
Belleville, New Jersey
.
---
---
---
Celebrating a Blessed Life
"...Whoever believes in him shall not perish but have eternal life."

Jesus said to her, "I am the resurrection and the life. He who believes in me will live, even though he dies; and whoever lives and believes in me will never die. Do you believe this?"
John 11:25-26

---

I have no one else like him, who takes a genuine interest in your welfare.
Philippians 2:20


---

---

So will it be with the resurrection of the dead. The body that is sown is perishable, it is raised imperishable; it is sown in dishonor, it is raised in glory; it is sown in weakness, it is raised in power; it is sown a natural body, it is raised a spiritual body. If there is a natural body, there is also a spiritual body.
1 Corinthians 15:42-44


A good name is better than fine perfume, and the day of death better than the day of birth.
Ecclesiastes 7:1


---

If we live, we live to the Lord; and if we die, we die to the Lord. So, whether we live or die, we belong to the Lord.
Romans 14:8


---

We are confident, I say, and would prefer to be away from the body and at home with the Lord.
2 Corinthians 5:8


---

After that, we who are still alive and are left will be caught up together with them in the clouds to meet the Lord in the air. And so we will be with the Lord forever. Therefore encourage each other with these words.
1 Thessalonians 4:17-18


---

If we live, we live to the Lord; and if we die, we die to the Lord. So, whether we live or die, we belong to the Lord.
Romans 14:8


---

---

"Do not let your hearts be troubled. Trust in God; trust also in me. In my Father's house are many rooms; if it were not so, I would have told you. I am going there to prepare a place for you.
John 14:1-2

---
---