My First Poem

---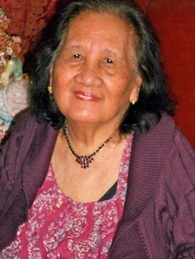 My first poem I dedicated to you.
(You have no equal, you are the best,
My number one mentor, the irreplaceable cook,
The indispensable presence, the morale booster
Pillar of strength, heart of our happy home,Geyser of flowing similes and metaphors,You are the first word I learned to master.)
When a girl cousin published that poem as her own,
The only line she skipped I now write to you:
Mother, I love you!
---
This poem first appeared in
Somewhen
(New York, 2013), Father Gilbert's comeback poetry book.
---
"Lumabay Nga Daw Aso" and "Dandansoy" are traditional Filipino folk songs written in Hiligaynon, the mother tongue of Eva Ramos Centina, and were her favorite native tunes. The latter was a popular ditty favored by the guerrillas under her husband during the Second World War as it gave them hope in their fight against the Japanese occupation. They identified with the plaintive song, which longs for the return to the halcyon days in a place in Negros Occidental known as Payao. "Bakya Mo Neneng" is a song she sang as a lullaby for her children and some of her grandchildren. "The Tennessee Waltz," "The Anniversary Song," and "Autumn Leaves" are her all-time favorite American songs.
---