Father Gilbert's Latest Book Tackles Poetic Works of a Major Filipino Poet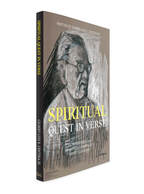 (Click on image to enlarge )
NEW YORK:
Spiritual Quest in Verse: A Literary Criticism of Ricardo Demetillo's Religious Poetry
is the latest book of Father Gilbert Luis R. Centina III, OSA to be released in the United States. Published by CentiRAMO Publishing, the literary criticism is a serious work on the religious poetic works of Ricardo Demetillo, one of two major Filipino poets writing in English to emerge from Manila in the last century. He, along with
José Garcia Villa
, helped place the Philippines on the world literary map with his ground-breaking poetry that chronicled the human condition from the prism of the formerly colonized Southeast Asian nation.
The book is largely based on a thesis written by Father Gilbert for his Master of Arts in Comparative Literature degree from the University of the Philippines in 1976. It focuses on the poetic works of Demetillo from the 1950s, when he was a fellow at Paul Engle's Iowa Writers Workshop at the state University of Iowa, through the mid-1970s, with the publication of his poetry collection,
Lazarus, Troubadour
.
The book's release was timed around the start of the fifth centenary of the Lutheran Reformation triggered by Martin Luther, an Augustinian monk. Demetillo himself was a Protestant, an heir of the Reformation. Father Gilbert belongs to the same religious Order which nurtured Luther who eventually would transform Christianity not only in Europe but throughout the world.
The book marks the first time that Demetillo's religious poetic works are extensively scrutinized from the Christian---even Catholic---perspective. What sets the book apart is the appendix which contains some deeply personal letters written by Demetillo to the author during the early part of their friendship. The two poets developed a bromance when the author, a young seminarian, was introduced to the respected literary critic and poet, who was a literature professor at the University of the Philippines. The young seminarian was drawn to Demetillo not only by his superior work as a poet but also by his disdain for
clericalism
.
Demetillo's works run the gamut of the human experience. His importance as a poet is encapsulated by former Dean Leopoldo Y. Yabes of the Graduate School of the University of the Philippines, a well-respected literary critic, when he writes: "
Ricaredo Demetillo's poetry, fiction, and criticism belong to a tradition that is both East and West, and his work is being recognized, though a bit slowly, as a distinct part of the world cultural heritage, a blending of oriental and occidental values. His writings offer a rich mine for the student and the science of culture...
Demetillo [looks] for additional values that may enhance the beauty and significance of human life. As a poet Demetillo has attained a stature that in Philippine literature is hard to erode and difficult to surpass."
---
---
---
---