Pope Francis Thanks Father Gilbert for Book Gifts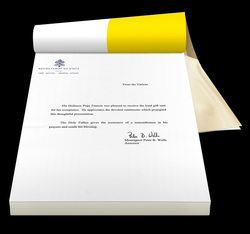 (Click on image to enlarge )
NEW YORK: Pope Francis, through the Apostolic Nunciature in Washington, DC, has thanked Fr. Gilbert Luis R. Centina III, OSA for dedicating one of his poetry books (
Somewhen
) to the Holy Father. Father Gilbert's publicists had sent Pope Francis a set of books authored by the Augustinian friar.
In an official communication from the Vatican signed by
Msgr. Peter B. Wells
, the Pope also imparted his blessings and expressed his appreciation for the books. Enclosed was an official photo of the Pontiff. Monsignor Wells serves as
assessor in the Roman Curia
.
The Holy Father received a set of Father Gilbert's six books, including
Getxo and Others Poems.
The book is the fourth new work and the sixth overall to be published by the author within a span of eight months. He broke a long hiatus from poetry writing with the publication of
Somewhen
in April 2013, followed by the reissue of both
Our Hidden Galaxette
and
Glass of Liquid Truths i
n May, by
Rubrics and Runes
, a novel, in July and by
Triptych and Collected Poems
in August of the
same
year.
---
---
---
---