The Lord is my shepherd; I shall not want.

He maketh me to lie down in green pastures: he leadeth me beside the still waters.

He restoreth my soul: he leadeth me in the paths of righteousness for his name's sake.

Yea, though I walk through the valley of the shadow of death, I will fear no evil: for thou art with me; thy rod and thy staff they comfort me.

Thou preparest a table before me in the presence of mine enemies: thou anointest my head with oil; my cup runneth over.

Surely goodness and mercy shall follow me all the days of my life: and I will dwell in the house of the Lord for ever (Psalm 23).

---

---
Luis T. Centina Jr., family patriarch, dies at 93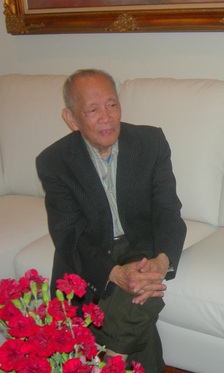 LUIS TORRES CENTINA JR.
entered into eternal life on Saturday, July 18, 2015. He was born on August 21, 1921 in Passi, Iloilo, Philippines. Before retiring he served with distinction as a school educator for the Department of Education in the Philippines. He was a staff sergeant under the
United States Army Forces Far East
(
USAFFE) during World War II.
When World War II broke out in the Pacific in 1941, he joined the Army as an intelligence and counter-intelligence non-commissioned officer. He answered the call of his country to serve by enlisting in the Philippine Commonwealth Army and was
inducted
into the
USAFFE
. After the war ended in 1945, he stayed in the Army for a few more months as an investigator of the War Crimes Commission that sent collaborators and war criminals to prison.
From 1972 up to his retirement in 1980, he worked as a Division Statistician in the La Carlota City Division of City Schools.
Prior to that, he had been a grade school teacher since 1948. H
e was elected to the board of the Negros Occidental Teachers Federation (NOTF), a post which he occupied until 1983, two years past his retirement. While sitting on the NOTF board, he sponsored several initiatives to improve the welfare of NOTF members, chief among which was the increase in burial benefits.
He was the son of Luis C. Centina Sr., a land surveyor, and Antonia Torres, a landowner and schoolteacher, of Calinog and Pototan, Iloilo, respectively. Before becoming a teacher in 1948, he served as assistant provincial assessor of the province of Iloilo, wanting to follow in the footsteps of his father. But after enrolling for a teacher's certificate at the then Colegío de San Agustín (now University of San Agustín) and at West Negros College, his career in education was set.
He is predeceased by his beloved wife Eva Ramos Centina and his son Romeo Centina. He is survived by his children Rev. Gilbert, Pierce, Evans, Nimtz, Heidi and Louella, his siblings Pedro Centina, Mary Lou Lake, Divina Dimaculangan and Carmen Roberts, along with his 13 grandchildren. Religious services were presided over by his second son, the Rev. Gilbert Luis R. Centina III, OSA. Interment took place on Thursday, July 23, 2015, at Glendale Cemetery, Bloomfield, New Jersey with military honors.
---
---
---
Celebrating a Blessed Life
"...Whoever believes in him shall not perish but have eternal life."

Jesus said to her, "I am the resurrection and the life. He who believes in me will live, even though he dies; and whoever lives and believes in me will never die. Do you believe this?"
John 11:25-26

---

I have no one else like him, who takes a genuine interest in your welfare.
Philippians 2:20


---

---

So will it be with the resurrection of the dead. The body that is sown is perishable, it is raised imperishable; it is sown in dishonor, it is raised in glory; it is sown in weakness, it is raised in power; it is sown a natural body, it is raised a spiritual body. If there is a natural body, there is also a spiritual body.
1 Corinthians 15:42-44


A good name is better than fine perfume, and the day of death better than the day of birth.
Ecclesiastes 7:1


---

If we live, we live to the Lord; and if we die, we die to the Lord. So, whether we live or die, we belong to the Lord.
Romans 14:8


---

We are confident, I say, and would prefer to be away from the body and at home with the Lord.
2 Corinthians 5:8


---

After that, we who are still alive and are left will be caught up together with them in the clouds to meet the Lord in the air. And so we will be with the Lord forever. Therefore encourage each other with these words.
1 Thessalonians 4:17-18


---

If we live, we live to the Lord; and if we die, we die to the Lord. So, whether we live or die, we belong to the Lord.
Romans 14:8


---

---

"Do not let your hearts be troubled. Trust in God; trust also in me. In my Father's house are many rooms; if it were not so, I would have told you. I am going there to prepare a place for you.
John 14:1-2

---
---