An Avant-Garde Basque Poet With Gravitas
Barrika, Spain: Once in a while, poet Antonio Aguirre comes along and drives me to Getxo's neighboring town of Barrika, a municipality founded way back in the year 496 by Sancho Vela, when the then known world subscribed to the idea that the earth is flat. Antonio Aguirre lives in Leioa but he comes to Barrika to recharge his batteries or, as he puts it, "to resuscitate". Considered one of the oldest municipalities of Biskaia, Barrika is also where his clan owns a one-hectare piece of property. The still unnamed hilly estate is teeming with acorns, chestnuts that just grow out of seeds accidentally dropped as party leftovers and hollies that unexpectedly bloom out of season.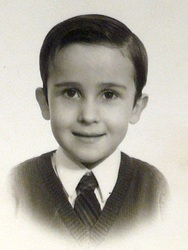 Outside Iglesia del Carmen, we converse in English. When he speaks English, he can pass for an Englishman. Having lived and worked long enough in England after receiving a grant from the Basque government gave him ample time to master the language. He also finished a law degree in Deusto, but instead of lawyering he takes regular trips to the U.S., particularly in New York, to Germany and to Switzerland as his job in the coffee packing business requires.
Antonio Aguirre writes avant-garde poems in Spanish and allegories for both adults and children that can pass as prose-poems. Lately he has tried writing a novel. We forget who we are when we are together. We click like castanets because of our common passion for the arts and literature.
Antonio Aguirre is a poet with gravitas. His poetry reflects his love for nature. He is both symbolist and naturalist. He believes that long after we shall have all gone to eternity, the trees we plant will long outlive us.
"Why not chop down the oaks and replace them with cherries?" I asked, lackadaisically curious.
"Because," he responded, sounding very serious, "every single acorn here takes years and years to grow. Long after we are gone they will still be around to replace us."
---
I find the opening lines of his poem, "Nacemos para amar" ("We Are Born to Love") powerful and moving:
L
os reproches son como piedras afiladas que hieren nuestras manos al lanzarlasSe parecen a vampiros que salen de la cueva de nuestras bocas, dispuestos a clavar su daño en el otro, pero después regresan a su morada.Nuestras lenguas, en un sepulcro de deyecciones, son guaridas de fieras, y látigos para uno mismo, donde la espalda del otro en realidad siempre fue nuestra espalda.
My free translation:
Reproaches are like sharp stones that hurt our hands when we throw themThey resemble vampires emerging from the cave of our mouths, ready to stick their damage to others, but after returning to their home.Our tongues, in a tomb of manure, are dens of wild beasts, and one´s own lashes, where the other's back was always really one´s own.
Each single line of his poem "Si amo no necesito palabra" ("If I Love I Need No Words"), punctuated with a period, turns the stanza into a philosophical aphorism:
Si amo no necesito palabras.Y si no no hay palabras que valgan.Se trata de eso, de amar.
My free translation:
If I love I do not need words.And if not there are no worthy words. It deals with this, about love.
His prose-poem, "Fue un abrazo" ("It Was a Hug"), is theology of the Word expressed in words so earthy they descend to the level of poetry:

Érase una vez una explosión de amor, se llamaba Padre, y su nombre era santo.
El amor en su corazón se entregaba en mil torrentes, mil cataratas que se desbordaron antes del tiempo y volando se volcaron en un Hijo, su rostro de niño, sus pies hundidos en el torrente, alegre de recibir todo el amor de su Padre, y levantándose para abrazarlo.
Ese abrazo se alzó con nombre propio, y voló con alas blancas, era una persona, y el viento de sus alas Espíritu Santo.
Viento de amor, lo único sólido del Universo.
Esto ocurrió antes y ocurrió después, y durante, y también ocurrirá, y está ocurriendo y ninguna de esas cosas, porque el Tiempo no tenía Tiempo, y estaba guardado en una caja.

Pero un día, la explosión se hizo física..
Padre dijo unos nombres, Hijo los escuchaba, se miraron a los ojos, se abrazaron más fuerte y Espíritu de viento, ahora ya sonrisa, comenzó a nevar.

My free translation:
Once there was an explosion of love, called Father, and his name was holy. The love in his heart indulged in a thousand streams, a thousand falls overflowed and flying time before they went out on a child, on the child's face, his feet sunk in the stream, happy to receive all the love of his Father, getting up to hug him.
That hug rose in its own name, with white wings and flew, he was a person, and the Holy Spirit the wind from his wings.
Wind of love, the only solid thing in the Universe.
This happened before and came after, and during, and will also occur and is occurring and none of those things, because Time had no time, and was kept in a box.

But one day the explosion was physical ...
Father said some names, Son listened, looked into his eyes, they embraced stronger wind and the Spirit of the wind, now smile, it began to snow.

On the highest point of the hilly estate of the Aguirres is a one-room miniature chalet which displays some paintings of the late Aguirre patriarch who was an efficient breadwinner as well as a proficient painter. Inside of this is where poet Antonio Aguirre prepares English red tea to sip with milk, as Englishmen do, when he views the spectacular sunset that can be viewed from the terrace whose dome is the sky.

The last time we were there I observed that the moon was full and appeared very big and so I wistfully thought that perhaps it must be the bloody moon slated to appear that Sunday. But Antonio Aguirre did not seem to share my thoughts because he was busy explaining to me the virtues of the red onions he had planted. They were not just a dime a dozen red onions. For the both of us, they were special red onions because they came from Certaldo, a town in Florence where Giovanni Boccaccio was born.