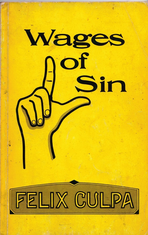 In a time of ferment, political and military elements join forces with the most powerful religious leader of a Third World country to oust a strongman who can do no wrong in the eyes of his followers but is the personification of evil to those who want him out of power by all means necessary.

In the face of fast-changing events, a superpower is made to choose between its long-time anti-communist ally and a modern-day Joan of Arc, sainted by the Church as the savior of her benighted land. What follows is a riveting tale of religious and political intrigues, gripping drama and tension that rends the characters who inhabit this fictional novel.
---
Wages of Sin is currently out of print.

---
---